Noosa Arts Theatre Auditions
Noosa Arts Theatre policy is to have auditions for all parts for all productions.
Upcoming Auditions…. October 7th!
Auditions will start at 7pm at Noosa Arts Theatre.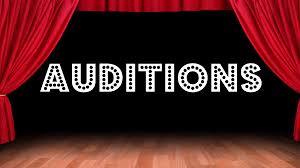 We are also happy to announce that in December we will bring much Christmas cheer to the stage with "A TURKEY'S TAIL"., a malevolent melodrama with a Christmassy festive theme, written and directed by Sue Sewell.
Requires 3 males, 5 females (and 1 turkey!!!)
*** CHANGE OF DATE FOR AUDITIONS for Turkey's Tail …. NOW 7th October at 7pm ***
Auditions for "A Turkey's Tail" was to be held on the 13th October at 7pm.

Auditions are all held in the auditorium of Noosa Arts Theatre, Weyba Rd, Noosaville.

Auditionees please note that a commitment to regular rehearsals is required, and these usually take place Tuesday and Thursday evenings.
ALL WELCOME!
Stay Informed: Auditions Notification