Noosa Arts Theatre Auditions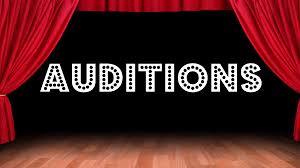 Queensland Premiere of the David Williamson comedy
Up For Grabs
Directed by: Rory Williamson
Auditions will be held on Wednesday, April 21 at 6.30pm
Noosa Arts Theatre,
163 Weyba Road, Noosaville
See below for audition material.
Performance dates
Thurs 22 July to Sunday 8th August 2021
Evenings 7.30pm: Thurs 22/7, Fri 23/7, Thurs 29/7, Fri 30/7, Thu 5/8, Fri 6/8, Sat 7/8
Matinees 2.00pm: Sat 24/7, Sun 25/7, Sat 31/7, Sun 1/8, Sat 7/8 & Sun 8/8
Synopsis
How far would you go to make a deal? When art dealer Simone Allen is given the opportunity to sell one of the late Brett Whiteley's better paintings, she transcends all boundaries and delivers a masterclass in focus and drive.
Any pretence at ethics takes a back seat in Simone's quest for the aesthetic high ground and the right price in this David Williamson high-stakes comedy of manners.

Characters

SIMONE ALLEN  – late 20's to mid 40's. 
Expensive tastes, art lover with determination and drive.
 
GERRY – ideally 30's to early 50's
Simone's risk averse, psychiatrist supportive husband who is at his wit's end.
 
MINDY and KEL – late 20's to late 30's ideally
Affluent and hip Sydney couple who have a slight cocaine habit and an unusual sex life. 
 
DAWN GREY  Over 50
A knowledgeable art consultant, dry, wise, occasional heavy drinker. 

MANNY – Over 50
Smart, ruthless, competitive, Sydney entrepreneur. 
 
FELICITY – 40s, 50s 
Manny's art loving, gala charity-donating society wife.

---
Please register your interest via email to Frank Wilkie on frank@noosaartstheatre.org.au or phone 0413 530 587

---
Pygmalion by George Bernard Shaw
Director – Liza Park: liza.noosa@gmail.com
* Auditions will be at the theatre on Saturday April 17th between 9:30am and 11:30am. There will be no booked times, so just turn up. The requested audition pieces are available for download – see below.
* Please audition with the accent required for your character, as indicated below.
* Henry Higgins – mid 30's/40's, educated English accent
* Colonel Pickering – mid 60's, educated English accent
* Eliza Doolittle – mid 20's, Cockney and educated English accent (there are 2 audition pieces for Eliza's role, and you need to present both please)
* Mrs Pearce – mid 50's +, Scottish accent
* Alfred Doolittle – mid 50's +, Cockney accent
* Mrs Higgins – mid 60's, educated English accent
* Mrs Eynsford-Hill – mid 50's +, educated English
* Clara and Freddy Eynsford-Hill – mid/late 20's, educated English
* Ladies maid/Butler – from mid 30's, educated English (no audition piece, just a chat with the director)
* Rehearsals will commence early August, and will be held all day Saturday, plus Monday and Wednesday evenings.
* Performances Oct 13th (FDR), 14, 15, 20, 21, 22, 23 @ 7:30pm, and matinees 16, 17, 23, 24 @ 2pm. NB 2 performances Oct 23rd
Contact the director, Liza Park at liza.noosa@gmail.com if you require further information.
---
ALL WELCOME!
Stay Informed: Auditions Notification