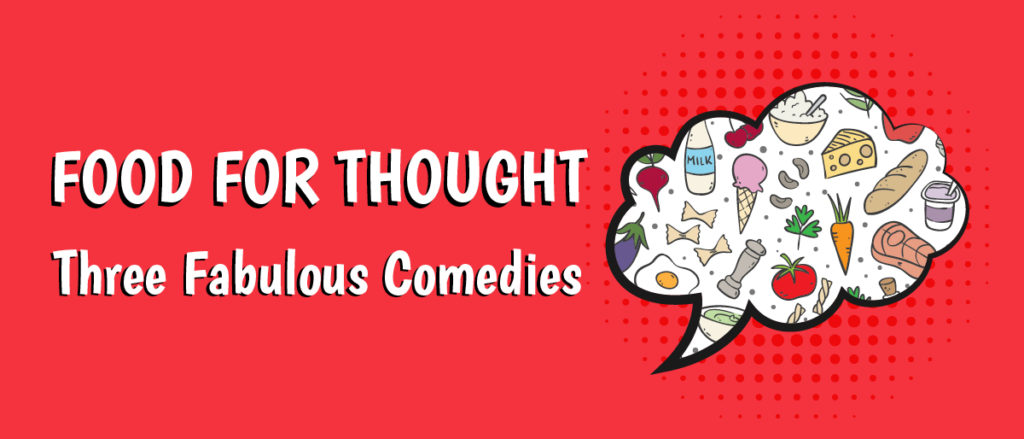 Come and enjoy a live performance that will have you laughing and wanting to go back for seconds. Grab some friends and come along for a great time out.
Dates: November 5th, 6th, 12 and 13th at 7.30pm and 7th, 8th, 14th and 15th at 2pm
Between Mouthfuls – A comedy romp by Alan Ayckbourn and directed by Sue Clapham.
A fateful dinner encounter featuring two couples and a seemingly impersonal waiter highlights simmering tensions in the two fraught relationships – Alan Ayckbourn's usual light-hearted but insightful look at a tense and serious moment – no happy endings here.
Chook Chook – A comedy by Fiona Farrell and directed by John McMahon
Valmai, Chrissy, and Georgia are three battery hens living out their existence in a Chicken Shed, and generally keeping their heads down to avoid being gathered up in The Big Black Bag at the end of the week. Then they are joined by Bron who has seen the OUTSIDE world of blue skies and green grass and life will never be the same. This comedy confronts us with the life of a battery hen and forces us to consider the ethics of battery farming.
Cupboard Love – A comedy by Jean McConnell and presented by Miranda's Dressing Room
Peggy and Jane come to rest after jogging. They find to their delight that they have much in common, but when they discover, to their horror, they share a passion for the same man, the two women devise their culinary revenge on the deceiver.
Tickets: Adults $28, Concession $23 Members $23 Groups (8 or more) $20 Under 18 $20. There will be allocated seating plans for each performance. The purchased tickets and seating may be subject to change to adhere to social distancing requirements.